Human
The research of Protexin probiotics in human healthcare
The Present
There has certainly been an influx of probiotic products on the market over the last 5 – 10 years and with over 6,500 research articles on probiotics listed on PubMed, we undoubtedly seem to be in a gut era. These probiotic products take on a range of forms from yoghurt drinks to oat based products and chocolate to dietary supplements presented in capsules, tablets, or powder form. With all of these different variations it is hard to know which product to choose without knowing more in depth information about the product and the company behind it. Probiotic trials now being published are of good quality and have convincing results with much of the work being done in digestive disorders, immune response and pathogen inhibition. However, there is other work that also looks promising in the field of (amongst others) cancer prevention, obesity and autism.
At ADM Protexin we work with world-wide leading Professors, Universities and institutes to ensure that we are always at the forefront of research.
Protexin are currently sponsoring PhD projects led by renowned Professors in the probiotic field. Naturally, these are lengthy projects, but they have the advantage of producing results for the in vitro work throughout the 3 year period. We also work with our worldwide partners on clinical trials.

With PhD projects still running, more innovative research will be produced and presented in the next couple of years along with further clinical studies.
The Future
Recent EU regulations (1924/2006) covering permitted health claims for foods and food supplements has meant that no products containing a probiotic can make a health claim without authorisation from the European Food Safety Authority (EFSA). At the time of the legislation being passed into law no probiotic products had been given a positive opinion by EFSA, but ADM Protexin are investing heavily in specific research and clinical trials that will satisfy the high demands of EFSA and we hope to be one of the first companies to achieve a health claim for a probiotic within Europe.
This project includes acquiring a number of unique species of bacteria that through a comprehensive screening process will be selected for numerous desirable characteristics required for this project, as well as providing a bank of high quality and unique bacteria for use in new and innovative areas of research.
Visit our dedicated Human Healthcare websites for Bio-Kult www.bio-kult.com and Lepicol www.lepicol.com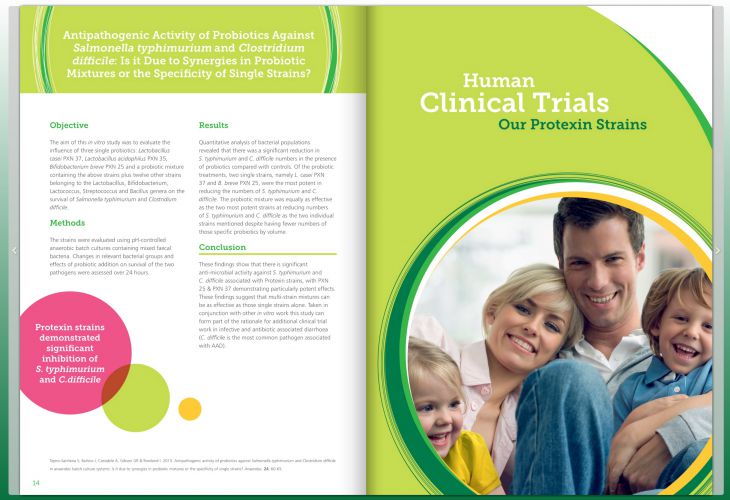 Click here to take a look at our Interactive Research Booklet.