Lepicol Lighter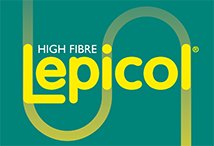 Lepicol Lighter is a high fibre product containing 7 strains of live bacteria, chromium and glucomannan and psyllium husk.

In stock
Product Description
Product Description
Why Lepicol Lighter?
Lepicol Lighter is a high fibre product containing 7 strains of live bacteria, chromium, an essential mineral that helps the maintenance of normal blood glucose levels, glucomannan, a plant fibre which contributes to weight loss in the context of an energy restricted diet and psyllium husk, which contributes to maintaining normal bowel transit.
Keep sealed and store in a cool dry conditions out of the reach of young children.
In high ambient temperatures (25C+) air conditioning or refridgeration would be cautionary to assist in maintaining shelf life.
Directions for use:
Adults: Take 1 sachet mixed with 1-2 glasses of water or juice 10 minutes before a meal 3 times a day.
Children: Parents should seek the guidance of a medical practitioner before giving Lepicol Lighter to children.
Pregnancy and Breastfeeding: We suggest consulting your doctor or healthcare practitioner before taking any food supplement.
Please note: Taking Lepicol Lighter without water could cause choking. The beneficial effect is obtained with a daily intake of 3g of glucomannan, in three doses of 1g each - each sachet contains 1g of glucomannan.
**Or as recommended by your doctor or healthcare practitioner
Ingredients: Konjac glucomannan (sulphur dioxide), psyllium husk (plantago ovata), live bacteria (see below), (milk and soya) chromium picolinate [50μg per 3 gram sachet°].
°provides 125% NRV•/ 3g sachet •Nutrient Reference Value.
Contains 2.3g of fibre per 3g sachet
Live Bacterial strains:
Lactobacillus casei PXN 37
Lactobacillus rhamnosus PXN 54
Lactobacillus acidophilus PXN 35
Lactobacillus bulgaricus PXN 39
Streptococcus thermophilus PXN 66
Bifidobacterium breve PXN 25
Bifidobacterium longum PXN 30
Microorganism strength:
Minimum of 200 million CFU/g (2 x 108 CFU/g).
Equivalent to 1.8 billion CFU/daily dose (1.8 x 109 CFU/daily dose).
Allergen advice: For allergen advice please see ingredients list in bold. Contains soya and milk, used in the fermentation process. Content of milk is at a level that would not affect lactose intolerant sufferers.
Do not exceed the recommended daily intake.
Food supplements should not be used as a substitute for a varied diet.
If you are taking any medications or have any medical conditions please consult your doctor before taking any food supplement.
Alongside Lepicol Lighter why not try our top 5 healthier lifestyle tips.
1.Consume a good quality protein source with each meal or snack to help sustain fullness for longer and enjoy some omega 3 fats such as oily fish, flaxseeds and walnuts to help increase satiety, reduce inflammation and burn stored body fat
2. Swap processed foods high in sugar or refined carbs for real foods such as fibrous colourful veg, providing you with more energising nutrients and less of a sugar dip mid-afternoon – keep a food diary to help stay on track
3. Stick to a regular routine so your body can regulate hunger hormones and mood fluctuations. Keep focused and calm when eating to improve digestion and to notice when you're full!
4. Let your friends and family know so they can support you in reaching your end goal
5. Focus on your goal – remember healthy weight loss should be a gentle enjoyable jog in the park, not a race.
Custom Delivery Required
Delivery price on application.