Lepicol Original Formula 350g Powder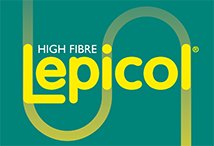 Lepicol is a multi-fibre source product containing gentle psyllium husk known to maintain normal bowel transit, as well as inulin and live bacteria.

26 reviews

In stock
Product Description
Product Description
Fibre for health.
Fibre is a key part of our dietary intake to ensure we maintain a healthy bowel. Not eating enough fibre can lead to digestive problems such as constipation and other chronic digestive disorders.
Why Lepicol?
Lepicol is a multi-fibre source product containing gentle psyllium husk powder known to maintain normal bowel transit, as well as inulin which is a prebiotic fibre source. Together, these two ingredients go a long way to help provide your recommended daily intake of fibre - something that many of us lack with the modern diet. The third key ingredient of Lepicol are 5 probiotic strains. These beneficial live bacteria help to balance the microflora in your digestive tract, supporting in the health of your bowel.
Suitable for:
• Maintaining a healthy, regular bowel.
• Irritable bowel.
Store in a cool dry place - out of direct sunlight.
Does not need refrigeration.
Directions for use: Take Lepicol at least 30 minutes before a meal. Shake before use.
Adults: Take 1-2 heaped teaspoons mixed with water or juice once or twice daily (5-10g) and consume immediately. This should then be followed by a further glass of water. We recommend starting with a low dose and building up gradually to suit the individual.
Children: Half the adult dose with parental supervision. Parents should seek the guidance of a medical practitioner before giving Lepicol to children under 11 years.
Pregnancy: Lepicol is suitable for use during pregnancy, but we would always suggest consulting your doctor or healthcare practitioner before taking any food supplement.
Please note: Taking Lepicol without water can cause choking. Always aim to consume a 250ml glass of liquid with every heaped teaspoon. Please consult your doctor before taking Lepicol Psyllium powder if you have recently had intestinal surgery or you have an intestinal obstruction. If at any time you experience discomfort after taking Lepicol, reduce dosage or stop taking and seek medical advice.
Store out of the reach of young children.
Ingredients: Psyllium husks (Plantago ovata), Inulin, Probiotics (milk and soya).
Probiotic strains:
Lactobacillus rhamnosus PXN 54
Bifidobacterium bifidum PXN 23
Lactobacillus acidophilus PXN 35
Lactobacillus plantarum PXN 47
Lactobacillus bulgaricus PXN 39
Probiotic strength: Minimum of 120 million CFU/g (1.2 x 108 CFU/g), equivalent to
600 million CFU/5g dose (6.0 x 108 CFU/5g).
Allergen advice: or allergens advice see ingredients list in bold. Contains soya and milk, used in the fermentation process. Content of milk is at a level that would not affect lactose intolerant sufferers.
Do not exceed the recommended daily intake.

Food supplements should not be used as a substitute for a varied diet.
Also available: 180g Powder, 180 Vegetarian Capsules
If you are taking any medications or have any medical conditions please consult your doctor before taking any food supplement.
Customer Reviews
Customer Reviews
By
christina van melzen
on
13th April 2017
"I am 76 years old and began taking Lepicol on the advice of a friend around 15 years ago. It worked very well for me I am as 'regular' as can be. It also had the added effect in that the pain from which I suffered in my lower back, which I later realise was due to straining, also disappeared never to return."

By
Oystein Teksli
on
29th November 2016
"Used this product daily for over 10 years now, and plan on using it for as long as I can. It has worked wonders for my health and any problems I've had with my stomach is in the past thanks to Lepicol. "

By
Sarah T
on
24th November 2016
"I've never been regular, despite eating healthily including lots of fibre. I started taking Lepicol a year ago after a friend's recommendation. I had a little stomach ache for the first week and nothing much changed. But after that 1st week, I now go regularly every day, sometimes twice (amazing for me), and feel so much better. It's the best thing I've found. Not cheap but it works and worth every penny to me."

By
Don Harry Nihal Jayasinghe
on
7th September 2016
"I have always gone to the toilet every morning all my life.Due to medications has had constipation on & off for the last 4 years.Since 2012 I have taken Husk fibre daily, but bowel transit has been slow. Also have had back pain. I found your web site via the Internet & got some samples.The results were very positive therefore ordered Lepicol Original Formula 350g Powder.I have been using Lepicol for the last 2 months.Now my stools are soft & long. Due to the quick bowel transit I pass much more stools than before.Husk fibre supplement with live bacterial cultures and 30% inulin is a miracle cure. Will recommend to all my friends. "

By
Oystein Teksli
on
23rd July 2016
"I've been using Lepicol for well over 10 years now and can't do without. Tried several other similar products, but none of those came even close to be as helpful and effective as this."

By
Catherine Woodley
on
8th April 2016
"How many years have I been on Lepicol now? Not sure, probably 4 because very shortly after i started it I became a caregiver and my life changed. And I have no idea how I would have managed without Lepicol. Prior to starting it my life was punctuated regularly by bouts of diverticulitis and ibs, it seemed I was always in pain or cramping or.... A girlfriend (who also had suffered with ibs) recommended it and I was certainly very nervous about taking it at first. Finally, in the midst of a severe attack, I started it - with much too high a dose - and immediately fainted! I cut way back, effectively restarting with a very small dose (1/2 tsp) twice a day. Gradually I built up to over a tsp. It worked: slowly my gut settled down - so much so that I had a new problem now! Now I could tolerate both more and more diverse foods than I could before - this was both good and bad! For the most part, it's been great and Lepicol has done really well for me: it's stabilized my gut, helped me get much more regular and the painful constipation I used to suffer is behind me. I now take 1 1/2 tsp every morning and that works just fine. I was very pleased too when, very early on, I spoke with the good folks who marketed Lepicol and explained that it was important to start gradually. Until then the dose the container suggested to start with was certainly too much for me - and to my pleasant surprise they did modify the wording on the package! Anyway, as I mentioned, Lepicol came into my life just as it was changing anyway. I cannot now imagine how I would have coped had I not recovered the good measure of digestive health and stability that I did. Thank you Lepicol. "

By
Peter McDonnell
on
2nd October 2015
"I tried the product when visiting the UK in June 2015 and found the effect on my health and management of my "system" following an operation for bowel cancer 7 years ago amazing compared to the product I was using at home. I have subsequently maintained the use of Lepicol at home and will do so on an ongoing basis. My thanks to Lepicol as the product has changed my life and lifestyle around. "

By
Loretta Lambert
on
1st July 2015
"Lepicol has really helped me. Taking it with plenty of liquid has helped my intestines; regular bowel movements are now possible. I feel so much better!"

By
José Canelada
on
8th June 2015
"After finding Lepicol quite a few years ago my life changed inmensely,no more problems, discomfort or suffering. Living abroad, the delivery is quick, and I can get Lepicol as soon I need it. No problems of any kind. Thank you"

By
Jennifer Lythgoe
on
23rd January 2015
"Excellent product, I have used for about the last 4 years. It has changed my life. I would recommend to others. "

By
Luis E. Suarez
on
3rd September 2014
"Excellent product. I have used Metamucil and Euromucil for years but Lepicol makes a difference. I do not feel my tummy anymore. I guess the difference is the probiotics. I'm really happy. One teaspoon daily and that's it."

By
KEITH ARMISTEAD
on
9th July 2014
"I was introduced to Lepicol original approx 12 months ago after having suffered from constipated IBS and bloating for many years. Lepicol appears to have improved these symptoms considerably. I now take only one teaspoon per day and this appears to help keep the bowel happy and comfortable."

By
H Claxton-Roper
on
24th May 2014
"I am very pleased with this product. It is exactly what I have been looking for. Convenient and easy to use. I thoroughly recommend it. "

By
William Frankham
on
11th May 2014
"Lepicol changed my life. I suffered so many digestion problems that my social life was restricted. But since taking Lepicol with the approval of my doctor – I now have a normal life. No more problems."

By
KTBirch
on
8th May 2014
"I love this product. While traveling in the UK, I was fortunate to find Lepicol. Not only did it solve my traveling woes, it continues to support ongoing healthy movement back at home in the States. I've not been able to find the product in the US; ordering through the internet was easy and prompt. "

By
Roald Berg
on
22nd March 2014
"I have been used the product for 5 years, and it is indispensable. Having diagnosis of ulcerative colitis"

By
C Chan
on
20th March 2014
"Good to keep bowel movement. "

By
Barry Mason
on
17th November 2013
"I have been using Lepicol now for some eight years and find it very calming for my digestive system after surgery for bowel cancer. On the only occasion that I ceased using it for a short period I felt uncomfortable until I resumed."

By
Jenny Lythgoe
on
13th October 2013
"I have been using Lepicol for the last 5 years and I find it keep me regular. I just take 1 tsp full about 5 times a week and I have no difficulty in going to the toilet. Until I started using this product I could go at least 14 days and no bowel movement. The only way before taking the product was by taking various laxatives and then spending a day in the bathroom. I now have a perfectly normal bowel movement every day."

By
McLean.
on
13th September 2013
" I find Lepicol an excellent product,and is now an essential part of my daily diet."

By
alex howat
on
12th July 2013
"I use Lepicol like a system balancer.It produces soft smooth throughput, wow the joy!!!!!I even take it on ski trips. It has been a rescue for me after 10 years + of all sorts of non effective medication, now I only use Lepicol. Thanks Guys wonderful "

By
Gina
on
10th June 2013
"I just wanted to say I have just started using Lepicol and I am amazed at the results. I wish I had known about this long ago. It literally has changed my life. Thank you."

By
lynn m jackson
on
5th June 2013
"Top product works well, much better now and deliver very fast...many thanks"

By
NORMAN. H
on
21st May 2013
"I have been using Lepicol for the last six weeks. Put half teaspoon full with breakfast serial and another half spoon full before evening meal. Am as regular as clockwork now. Bril!!!"

By
james darmody
on
24th April 2013
"I have been using this Lepicol original for several years and am very satisfied. Also, international ordering and shipping per the internet went as scheduled and promised. No delays."

By
David Treanor
on
23rd March 2013
"I love this stuff. Don't know what I would do without it."

Custom Delivery Required
Delivery price on application.