Lepicol Plus Digestive Enzymes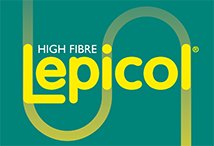 Lepicol Plus+ is a multi-fibre source product containing gentle psyllium husk known to maintain normal bowel transit, as well as inulin, digestive enzymes and 5 strains of live bacteria.

9 reviews

In stock
Product Description
Product Description
Fibre for health.

Fibre is a key part of our dietary intake to ensure we maintain a healthy bowel. Not eating enough fibre can lead to digestive problems such as constipation and other chronic digestive disorders.

Why Lepicol plus+ with Digestive Enzymes?

Lepicol is a multi-fibre source product containing gentle psyllium husk known to maintain normal bowel transit, as well as inulin which is a prebiotic fibre source. Together, these two ingredients go a long way to help provide your recommended daily intake of fibre - something that many of us lack with the modern diet. The third key ingredient of Lepicol are 5 probiotic strains. These beneficial bacteria help to balance the microflora in your digestive tract, supporting in the health of your bowel. Lepicol plus+ has the extra benefit of digestive enzymes to aid your bowel in digesting food.
Suitable for:
• Maintaining a healthy, regular bowel.
• Irritable bowel
Store in a cool dry place - out of direct sunlight.
Does not need refrigeration.


Directions for use: Take Lepicol Plus+ 10 minutes before a meal. Shake before use.
Adults: Take 1-2 heaped teaspoons mixed with water or juice once or twice daily (5-10g) and consume immediately. This should then be followed by a further glass of water. We recommend starting with a low dose and building up gradually to suit the individual.
Children: Half the adult dose with parental supervision. Parents should seek the guidance of a medical practitioner before giving Lepicol Plus+ to children under 11 years.
Pregnancy: Lepicol Plus+ is suitable for use during pregnancy, but we would always suggest consulting your doctor or healthcare practitioner before taking any food supplement.
Please note: Taking Lepicol Plus+ without water can cause choking. Always aim to consume a 250ml glass of liquid with every heaped teaspoon. Please consult your doctor before taking Lepicol Plus+ if you have recently had intestinal surgery or you have an intestinal obstruction. If at any time you experience discomfort after taking Lepicol Plus+, reduce dosage or stop taking and seek medical advice.
Store out of the reach of young children.
Ingredients: Psyllium husks (Plantago ovata), Inulin, Digestive enzymes (Protease, betaine HCL, ginger root, papain, peppermint leaf, fennel seed, bromelain). Probiotics, (milk and soya)
Probiotic strains:
Lactobacillus rhamnosus PXN 54
Bifidobacterium bifidum PXN 23
Lactobacillus acidophilus PXN 35
Lactobacillus plantarum PXN 47
Lactobacillus bulgaricus PXN 39
Probiotic strength: Minimum of 120 million CFU/g (1.2 x 108 CFU/g), equivalent to
600 million CFU/5g dose (6.0 x 108 CFU/5g).

Allergen advice: For allergens advice see ingredients list in bold. Contains soya and milk, used in the fermentation process. Content of milk is at a level that would not affect lactose intolerant sufferers.
Do not exceed the recommended daily intake. Food supplements should not be used as a substitute for a varied diet.
If you are taking any medications or have any medical conditions please consult your doctor before taking any food supplement
Customer Reviews
Customer Reviews
By
Edith McHardy
on
6th October 2017
"I have suffered with diverticulitis for some time now and have had a few painful bouts that left me hospitalised. After staying with my daughter and not able to return home her doctor told me about Lepicol and advised me to take it as a good management plan. I'm so glad I took her advice as no more bouts and it keeps me very regular. I just wouldn't be without it."

By
Sheila
on
8th February 2017
"Re: Diverticular disease. I suffered 3 - 4 really painful and frightening episodes of what took a while to diagnose as Diverticulitis. Horrible - but how glad am I my mum told me to try Lepicol. Makes all the difference, not a cure but an important part of a careful management programme for this condition. Wouldn't be without it. Thank you."

By
John
on
29th October 2015
"Excellent product. Used lepicol for some years."

By
s m golden
on
8th February 2015
"I am very happy with this product. I suffered from constipation for years and I had this bad itchy prickly skin, not even doctors could help me with it it drove me insane. It affected my whole quality of life. I started taking this product lepicol plus but I didn't think it was going to help me. The itch and prickly skin got worse at the start of taking this product but after a week it's nearly all gone. I am so happy, I hope that this product will always be sold. Thank you so much. It did take a while to work for me, I am taking it with pure orange juice followed by a pint of water and now I am back to one trip a day. I am still on my journey and 100 times better from what I was. The probiotic in this product works wonders to heal the gut. Just give it a go, it might take even a month to start working but it will. This product works better with orange juice along with a glass of water and a healthy diet. Thank you so much."

By
Sue Parry
on
1st September 2014
"I am absolutely delighted with the results, I was honestly apprehensive at first only because having tried so many different products with no affect, but I can't believe how effective lepicol is. It's actually life changing, I can't rate or thank you enough. Which I had found your site earlier! Thank you "

By
Alice Soames
on
17th March 2014
"Excellent Product. For my equilibrium, it's an essential supplement. In the past I got a nasty bug in my bladder due to a bad digestive system. Now Lepicol helps me to clean my body and help it to fight inflammation or Potential infection."

By
chris
on
19th February 2014
"At last back to one trip a day to the loo! I did have quite a lot of wind during the first week but stuck with it and this has now settled down. Away on holiday next week so I am glad that I purchased the sachet product too. "

By
Joy Scott
on
4th July 2013
"I have been using Lepicol for about 4yrs & I'm very thankful I was introduced to it by a health therapist. My bowel movement is much improved.My GP confirmed a big improvement in function on examination. "

By
Sarah
on
1st April 2013
"I have food intolerances to dairy and gluten and IBS which cause severe fatigue and pain, with the use of the product even if I slip up occasionaly and have these forbidden foods my body does not react the same. I open my bowels regularly, not as much bloatedness and have bundles more energy. Very happy with this product and will continue to use."

Custom Delivery Required
Delivery price on application.